Orange County AOH
is pleased to announce that
James Dennis O'Malley
will represent Orange County AOH as
2020 Aide to the Grand Marshal
NYC St. Patrick's Day Parade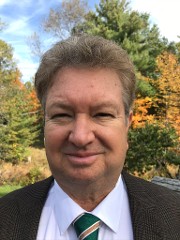 The second son of Edward and Patricia O'Malley, James was born and raised in the Marble Hill section of the Bronx with an older brother Edward, sister Joan and younger brother Kevin. He attended St. John's grammar school and could not have had a better place to grow up. The family was very fortunate having a meal and a roof over their heads thanks to hardworking and loving parents. Second generation grandparents came from county Mayo and Meath . Having been lucky to have visited over the years and seeing how glorious the country is James has a tremendous respect for all the Irish who emigrated to America.
He attended Manhattan Prep school playing basketball and football while also running track. He then attended Manhattan College at the same campus and could not have had a better education with the Christian Brothers. After school he followed in his father's footsteps and began a lifetime business career working as an International Banking Officer where one of the most important events happened. In 1977 he met the love of his life Jayne at work and has been happily married for the last 40 years. Starting out in Woodside, Queens a few years later they made the move to the Town of Wallkill in Orange County. For many years he commuted into Manhattan at various banks before returning to their country home in the Hudson Valley. Jim worked locally at Chase Bank culminating as a Private Banker and Broker before retiring. Their love of travel has led to multiple yearly trips throughout the States and overseas. Having been graced with wonderful nieces, nephews and grandnephews and accompanied by their dogs Ringo and Huck has rewarded them with wonderful memories at family get togethers. Having more free time has allowed Jim to volunteer at a nearby pet shelter and the local hospital where Jayne works as a nurse. He also supervises at Army West Point sporting and cultural events as well as a proctoring and acting as a patient at Touro Medical College. Hobbies include the drums, a music DJ when needed, reading, hiking in the Hudson Valley and swimming at the local YMCA.
Another important moment occurred when AOH Brother Ron Heppes came into the bank where he worked some 15 years ago. Jim quickly joined AOH and has enjoyed the privilege of being a member. Since joining AOH James has helped at many of their functions and has held various officer positions. He is currently the Treasurer of both AOH Division 4 in Middletown NY and the Mid-Hudson St. Patrick's Day Committee and in 2019 was an Aide to the Grand Marshall at the Mid-Hudson St. Patrick's Parade. Many thanks to everyone involved for the privilege and opportunity to be an Aide to our Grand Marshall for NYC 2020. He is truly humbled and proud to have been chosen by his AOH brothers for this honor and incredibly excited for the opportunity. It reminds James of the very first time he marched behind the AOH banner with his fellow brothers and subsequent years being a small part of the best and most prestigious parade in the world.